Meet Vehicle JT2AW16J6K0158959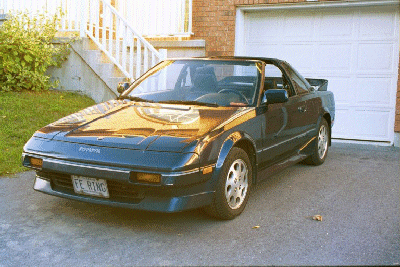 | Owner - Rob Brunner | Location - Kingston, Ont. CA | E-Mail - victory@kingston.net. |
| --- | --- | --- |
| Year - 1989 | Purchase Date -8/97 | with 183,000 miles |
| Car Color - Dark Blue Pearl | Previous Owner - Unknown | Current Milage is 185,000 |
This car entered the Registry on 9/29/97 and the entry was last modified on 12/08/00 .
Options - Alloy Teardrop wheels, T-Bar, Power Windows & Door Locks, Leather Seats, Cruise Control, AM/FM/Tape, Alloy wheels
Major Service Work Performed - Replaced clutch, brakes and left rear wheel bearing.
Aftermarket Performance Mods - G-Force R type tires for autocrossing.
Audio Upgrades - None
Previous History - Owned by a company as management fleet car (yikes!). Stored indoors all it's life.
Notes - Will be prepared and extensively entered in Solo I and Solo II events in CASC (Ontario Region) and SCCA (NY State). Prepared for A/SP (CASC).
Any Damage - None
Any MR2 Pages - My Web Page or the St. Lac Auto Club Page