Meet Vehicle JT2AW16J4K0150102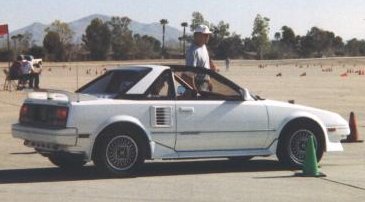 | | | |
| --- | --- | --- |
| Owner - Chris Barnhart | Location - Tuscon, AZ USA | E-Mail - mr2lover@hotmail.com |
| Year - 89 | Purchase Date -08/05/98 | with 90,000 miles |
| Car Color - Alpine White | Interior Color - Black/Red | Current mileage - 90,000 |
This car entered the Registry on 08/07/98 and the entry was last modified on 12/08/00

Factory Installed Options:








AM/FM

AM/FM/Cassette

AM/FM/Cassette/CD

Major Service Work Performed - Nothing needed yet, just regualr intervaled service
AfterMarket Performance Mods - Tokico Illumina struts, Suspension Tecniques sway bars, Thermal Research and Design muffler and 2 1/2" pipe, Cusco SC Crank pulley, Colored Intercooler hoses, homemade K&N Filter in the trunk,Speedline 17" wheels with Yokohama A520, Centerforce dual frictino clutch, Carbon/metallic brake pads, K&N filter, air-fuel ratio adjusted
I'm waiting for my dual gauge pillar mount pod set.
Aftermarket Audio Mods - Alpine head unit qith 3 CD changer, Coustic Electronic crossover, Coustic 160 amp pushing 8" JL Audio sub, alpine 60 watt amp pushing ADS 5" mid-bass drivers, Power Acoustic 150 watt pushing 2" tweeters on the mirrors - 4" mids in the dash, and 3.5" kicker coaxial behind my head.
Problems with Car - Not a one
Previous History - Original owner was Jack Drummond who autocrossed it and owned it for 6 years. Second owner was Scott Krough who owned it for one year and road raced it. Third owner was Roy Coombes who it until this year and autocrossed and pro-solo events.
Misc Notes - Car still has the original paint with no dents, door dings, or scratches. Nervous as hell when I park it anywhere. The interior is also as immaculate. no rips, tears cig burns or fading.
Personal Web Page - http://www.geocities.com/motorcity/garage/3802